** ATTENTION! **
Due to the COVID-19/Coronavirus we are unable to host leagues and tournaments at this time.  
Thanks for your patience and we'll look forward to playing some pinball with you again soon!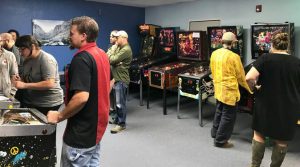 2nd Sunday each Month – IFPA Sanctioned (WPPRs!)
Sunday, March 8th at 6pm: Join us for a Flipper Frenzy tournament! $5 entry (+ cost of games played) with 100% payout of entry fees to the winners! When you participate in a league or tournament, you will get 20% off the cost of game-play with use of a swipe-card!
Blizzard Mountain Pinball League:
Our next league will be starting March 23rd! The league lasts 8 weeks plus a final playoff on the 9th week (May 18th), and will be held every Monday evening at 7pm. ​​​Each week players will be in a 3 or 4 player group and will play 5 games. Every week the groups will be reshuffled so you will play against players with similar records to yours. Your ending position determines your seeding for the end of league finals. You must participate in at least 5 of the 8 weeks to qualify for finals (i.e., you can miss up to 3 weeks). Cost to participate (league dues) is $30 per person, + cost of game play. We regret we cannot accept credit cards for league dues. Full payment of league dues on week 1 is appreciated! Note that league dues are not refunded for weeks missed. League dues are paid out 100% for trophies and cash prizes after week 11 for the winners in each division. This league is sanctioned by the IFPA. ​League play is a fun way to get to know other pinball players, learn more about the games, and learn new skills to help you become a better player. If you are interested in signing up, or for more information, please send us an email at
info@blizzardpinball.com
!