Blizzard Mountain Pinball is owned and operated by the McCarthy family. Read on to learn more about how pinball became a family obsession, and why we're excited to share it with you!
I started playing pinball around age 16 once I was able to start driving myself to the mall arcades or Celebrity Sports Center. I stretched my money from my after-school job to pay for these arcade trips, so realizing that playing well could earn me a free replay was exciting and rewarding! I picked up my first game (PIN-BOT) from a local distributor in 1991 for about $1000 after saving up for a long time. (I later sold it to a friend get an Earthshaker, but then many years later I bought it back and it's now in Blizzard!) We've been bringing games to the Rocky Mountain Pinball Showdown every year since 2005 – It's very satisfying to provide this entertainment and escape, and to see people enjoying playing the games from our collection. Owning an arcade has been a dream for many years, so I'm thrilled to have this opportunity to share my love of pinball with others!
I fondly remember playing pinball games at various locations in Denver and Estes Park when I'd tag along with my dad on jobs where he was repairing machines. I got so much practice that I considered myself a pinball wizard…until I met Kevin! When we first started dating, I was thrilled to have a boyfriend who had two pinball machines in his living room (a Fun House and a Twilight Zone). However I quickly realized I'd need to step up my game! Over the years, Kevin has taught me a lot of "flipper skills"–post passes, bounce passes, and (a not very consistently executed) drop-catch. I have enjoyed participating in leagues and tournaments–I even have a couple trophies! I have really enjoyed getting to know the great people involved in the pinball community, and am impressed and inspired by the rise of so many incredibly talented women players.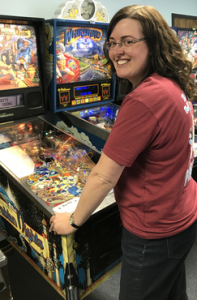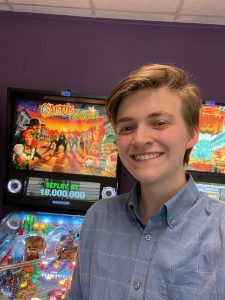 Jack and Zach are the true pinball wizards of the family. It may have been their destiny given their early introduction to the game. (They were playing as soon as they could reach the flippers!)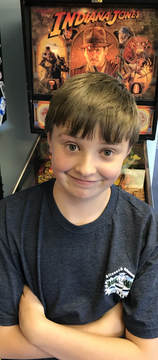 As a young kid, Zach spent many hours searching for pinball machines for sale on eBay and Craigslist, watching gameplay videos, streaming his own gameplay online, and playing in tournaments. Now he's often traveling out-of-state (or even out-of-country!) to play competitively. (In fact, he's usually in the top 10 in the World Pinball Player Rankings!)
Jack loves playing pinball and is thrilled to be a part of this amazing pinball family! Jack is now an actor living in New York but he makes frequent visits back and one of his first stops home will always be Blizzard Mountain Pinball. (Mom hopes he'll get a starring role in Tommy someday!) In an era when many kids have never seen a pinball machine, we're blessed that the pinball bug has caught on with ours!
Through the years, we've enjoyed introducing our personal friends and family to pinball–We're so happy we get to share our love of the game with a growing circle of friends through Blizzard Mountain Pinball!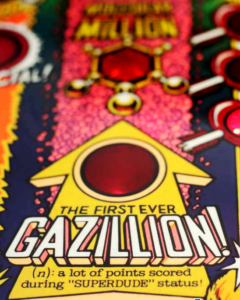 Why pinball, you may ask? We have a healthy respect for other arcade games; Laura is a champion barrel-jumper on Donkey Kong, Kevin is a scary good flyer on Defender, and the kids appreciate their PlayStation and Xbox. However, there's something special about pinball. Maybe it's the nostalgia we feel with all the familiar bells and dings of the pop bumpers or clacks of the flippers, or the exciting proclamation of "Jackpot!" or "Extra Ball!" that got our pulses racing when we were kids in the arcade. Or maybe it's how "analog" the experience is of seeing a real-world flipper send a real-world ball soaring towards a desired target, when we're generally surrounded by all things digital and often incomprehensible.
Each game is also a unique work of art. Take a moment to look at the artistry evident in each back-glass, and in each game's layout and playfield artwork. Some are silly or cartoonish pop-art, some have the artistry of a beautiful painting. (You could spend an hour just examining every intricate and hilarious detail artist John Youssi put into the back-glass for Medieval Madness.) Each game also has its own set of rules to learn and goals to accomplish, making each pinball machine a totally unique experience. Ask Kevin and he'll be happy to fill you in on how each game works, and teach you some basic flipper skills to accomplish the goals.
Follow us on Social Media