2nd Sunday of each month, 4pm start! Open to all!
Join us for our monthly tournament! $5 entry plus cost of games played, with 100% of entry fees paid out in prizes! (Tournament players get 20% off gameplay for the night!)
Each player plays 12 rounds of pinball, so you get to play lots of matches during the event! You will be randomly assigned to a game and an opponent each round. When that game is done, you'll have a short wait in the "pool" of players before being sent out to another game. It's a fast-paced format with not a lot of waiting. After the 12 rounds are completed, the top half of all the players advance to the playoffs!
Women's Tournament!
Events are held approximately quarterly! (Check out our Facebook Events for exact dates!)
Women's tournaments are a great way to familiarize yourself with pinball events and to meet some wonderful women who also love pinball! Just by playing in the tournament, you will become a world-ranked pinball player with the International Flipper Pinball Association (IFPA) and will earn Women's WPPRs (World Pinball Player Ranking points).
The format for the Women's Tournament is usually the same as our regular monthly Max Matchplay tournament described above, though sometimes we experiment with other fun formats. (And tournament players still get 20% off gameplay for the day!) Feel free to contact us if you have any questions!
Monday Night League!
Follow us on Facebook to see when our next league is starting! The league is a great way to meet some wonderful people, to learn a lot about the games, and to pick up new flipper skills!
Dues are $40 (plus cost of games played), and league players will get 20% off gameplay for the night! The $40 will go into a prize pool to be awarded after the final playoff night.
On each league night, we will play 5 games in 3- or 4-player groups. 1st place on a game gets you 7 points, 2nd gets you 5 points, 3rd gets you 3 points, and 4th gets you 1 point. There are also opportunities for bonus points each week! After each league night, we recalculate your average and the next week you'll play against others with a similar average. This will continue for 10 weeks. For the finals playoff (week 11), the top 16 players will compete in the A division, the next 16 will be in B division, and everyone else will compete in the C division. Prize money will be divvied up between the divisions so everyone will have a chance to win!
The league is IFPA sanctioned, and results will be reported to IFPA after finals. You only need to be here for 6 of the 10 weeks to qualify for finals. Note that if you make all 10 weeks, you'll drop 2 of your worst weeks for seeding in the finals. Attending 9 of the 10 weeks will drop 1, 8 or fewer weeks won't drop any.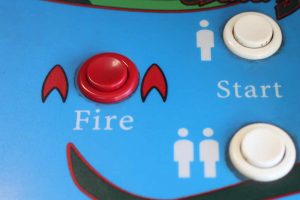 We are really looking forward to hosting the league again! Pinball leagues are fun for all ages and skill levels. Learn how to be a better player! Learn strategies to play your favorite games even better! We hope to see you here for this fun and social event!
Follow us on Social Media